JCB is introducing two articulated boom aerial work platforms, with a choice of full battery electric and diesel/electric hybrid drivelines. The A45E and A45EH deliver increased efficiency, enhanced operator access and higher levels of monitoring to increase productivity for customers.
Key features include:
Maximum platform height of 13.84m with 7.47m forward reach
Battery electric or diesel/electric hybrid drivelines
300kg lift capacity
Secondary guarding, puncture-proof tyres, slew lock and emergency override
JCB LiveLink real-time remote monitoring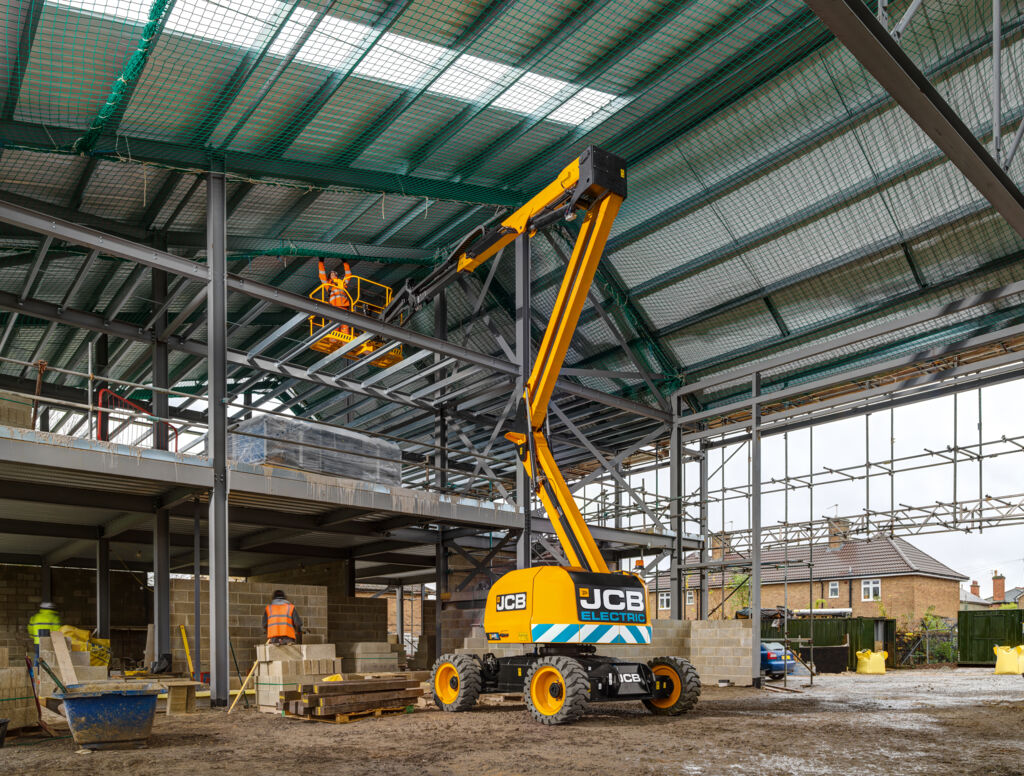 High Capacity
JCB is building on its successful aerial work platform line-up by adding two articulated boom machines. The A45E is a full electric version of the previous AJ48D, offering zero emission working with all of that machine's performance, working height and forward reach. The A45EH is a diesel/electric hybrid version of the same machine, ideal for working in more remote locations where an external power supply is not readily available.
The A45E is powered by eight 6V batteries, creating a 48V, 400AH operating system. The battery packs are located on either side of the lower chassis, maintaining a low centre of gravity for added stability and improved traction. The batteries power AC drive motors via motor controllers and the machine's hydraulic pump through a hydraulic motor controller.
The A45EH uses a 14.8kW three-cylinder diesel engine and a 7.5kWa generator to power the machine's eight 6V batteries. The engine is mounted on a swing-out tray, making it easier to service and maintain when required. A 40-litre fuel tank provides more than enough fuel for a full week of operation, making the machine an ideal low emission platform for more remote locations. The battery can also be plugged into a mains supply if available.
Both of the platforms have four-wheel drive and two-wheel steering as standard. The wheels are driven by four AC motors and these motors recover energy through regenerative braking, to prolong battery performance. As drive is provided to each individual wheel, the machine is capable of climbing up to 40% gradients. An oscillating axle ensures that maximum traction is maintained on rough ground when the boom is stowed. However, the axle is locked, to ensure machine stability, when the machine enters boom raise mode. Foam-filled, non-marking tyres are standard.
Maximum lift
The platform has three entry points for ease of access. There are four harness clipping locations, allowing the operator full access around the basket. The platform length is 0.84m and the width is 1.84m. A secondary guarding system is provided, automatically halting boom functions when triggered, to protect the operator and prevent crushing.
The booms are equipped with a Slew Acknowledgment feature, that ensures that the operator must register if the boom is slewed over the side of the chassis before driving when elevated. A Tilt Sensor prevents machine elevation when the chassis is on unlevel ground, tilting the machine to more than 5.
Maximum platform height is 13.84m on either model, with a horizontal reach of up to 7.47m, providing an up and over clearance of 7.48m. The lift capacity for both booms is 300kg.
JCB's LiveLink telematics monitoring system provides real-time operating data on performance, service schedules and fault codes. Managers can remotely record engine operation, low fuel warnings, tilt sensor warnings and overload warnings. LiveLink also provide battery voltage, fuel level and platform load percentage data.
The A45E and A45EH deliver a higher lift capacity, with zero emission or low-emission hybrid power. The machines offer higher levels of efficiency, with higher levels of monitoring, delivering and enhanced operator experience and increased productivity.
New friendly display
These machines are equipped with a 5" colour display on the platform, providing operators with essential data. This intuitive interface enhances safety and protectivity on the job site.
In addition, the machines feature a unique control system that eliminates the need to switch between platform controls and ground controls. Operators can seamlessly operate the machine from either location, eliminating the hassle of switching control modes.