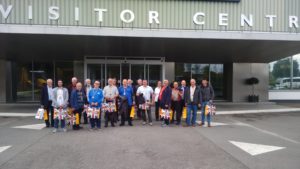 The JCB customer visit was held on Monday 4th September 2017. The day began with tea, coffee and biscuits on arrival at the JCB VIP Visitor's Centre and then introductory videos in the theatre informing customers about: the history of JCB, Anthony Bamford (the Chairman of JCB) and his family.
The hospitality lunch was held in the JCB VIP Visitor's Centre and included: carrot and ginger soup, roast beef with mashed potato, leeks, peas and beans and crème brulee.
The factory tour included seeing the Loadall production line and the Backhoe production line which our customers could see how the machines are made, from bare metal to their finished product.
Customers were shown 'The Story of JCB' which is an inspiring museum that outlines the history of JCB and is also where founder, Mr JCB's old office is located.
The presentations shown in the theatre on the screen provided customers with the key features and benefits of the JCB parts we sell: tracks, wearparts, tyres, service exchange engines, lubricants (oil and grease) and how important it was to buy genuine JCB parts instead of non-genuine parts. There was also an attachments presentation focused on quickhitches and contractor breakers.
Customers received a goodie bag which included: a mug, a keyring, a pen, a t-shirt, flyers and our newsletter as a thank you for attending.
Simon at Topsoil said "Big thank you [Nick] and Jane for a great day out" and Gary from Maron Plant Limited commented "Thanks very much for yesterday. Really enjoyed it."
If you would like to attend our next JCB customer visit, please email natasha.goryl@gunn-jcb.co.uk