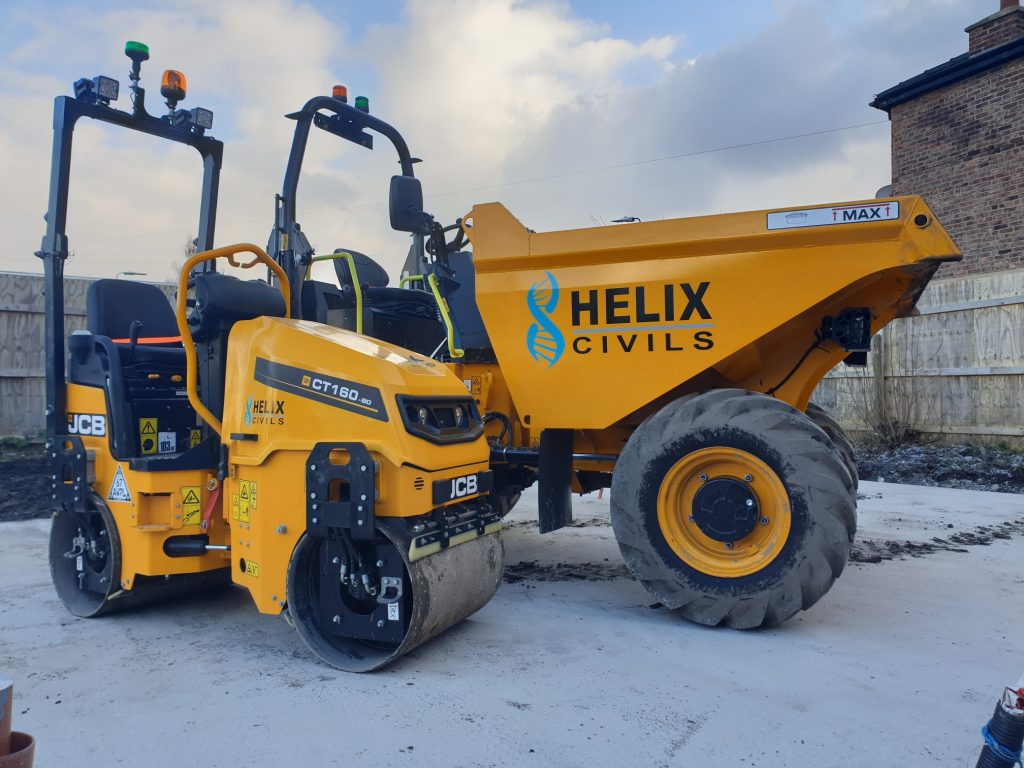 Civil Engineering & Groundworks firm Helix Civils Ltd has taken delivery of two new JCB machines, just six months after their first-ever JCB machine purchase. Adding to their construction fleet, the business took delivery of a JCB 6 tonne Site Dumper and a CT160-80 JCB Vibratory Tandem Roller.
In 2020 Helix Civils purchased the performance-driven JCB 131X Excavator, following the launch of the industry-leading X Series Excavators. The business has already made good use of the machine on projects including foundation and drainage excavations and construction developments. The JCB 131X is productive, comfortable, and easy to use, and is ready to perform in the most extreme conditions, a perfect fit for groundworks.
With such a mix of projects, Helix Civils depends on having reliable construction machinery to provide a one-stop-service for their customers.
Helix Civils Managing Director, Laurie LeFeuvre, said: "We selected the two new JCB additions to fully complement the type of work that the company undertakes and to provide a complete working civil engineering & groundworks unit that can be utilised on any of our projects around the North West.

The JCB LiveLink system enables us to be in full control of the plant equipment with the added bonus of security and tracking and that in turn saves money on our insurance premiums.

Helix Civils Ltd are pleased to be partnering with Gunn JCB for our plant requirements. Our local Construction Salesperson Gareth Baxendale has been instrumental in our selection of JCB equipment in providing advice and detailed explanations as to the ability of the plant equipment and is always available and willing to help if required."
Ease of use and performance are both common features of the JCB 6T-2 Site Dumper and the JCB CT160 Vibratory Tandem Roller. The JCB 6 tonne Site Dumper is guaranteed to maximise productivity wherever you deploy it. Superior safety, comfort, serviceability, and ease-of-use are all part of the JCB 6T-2 package.
The JCB CT160 tandem rollers make working not just easy but also a pleasure to work with. A simple, intuitive control layout and superior operator comfort are just some of the main features that aid any operator when using the JCB tandem roller.
Based in the North West and established in 2019, Helix Civils are perfectly placed to support construction developments in Liverpool and Manchester. In the last few years, the team has steadily built an excellent reputation and today they are renowned across the UK for managing commercial, retail, and residential construction sites.