JCB has launched its first-ever electric site dumper with the unveiling of a one-tonne high-tip model powered by lithium-ion battery technology. Designed to work indoors, underground and in emissions-sensitive areas, the 1TE electric dumper is an ideal partner for JCB's market-leading 19C-1E electric mini excavator.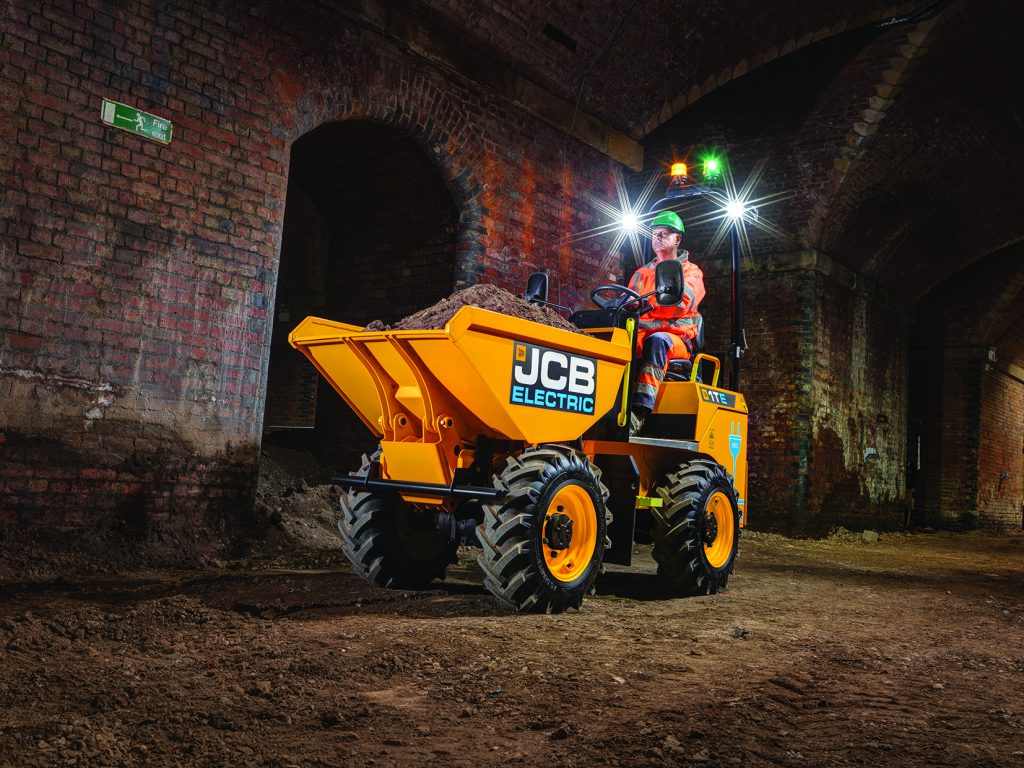 Key features include:
Zero emissions and low noise levels
Fast charge capability
Full shift operation in typical use
High-tip skip design to allow loading into skips and larger containers
The 1T-E site dumper is a durable, compact machine with a full steel skip and heavy-duty articulated chassis. The machine replaces the individual wheel motors of the hydrostatic 1T-2 with conventional drive axles and a drop box, to provide full-time all-wheel drive. A 7kW hydraulic motor delivers drive to the drop box, while a second hydraulic pump is used to power the machine's standard hydraulic circuit, for steering and skip lift.
The power is supplied by two 5kWh lithium-ion batteries, capable of providing full shift operation in normal use. The batteries can be recharged from conventional site electrical supplies, with 110V and 230V cables available. In addition, the optional JCB Universal Charger can be used to rapid charge the batteries for extended operation.
The 1TE delivers zero emissions at the point of use and low noise levels, making it ideal for indoor, underground and emissions-sensitive working sites. A ROPS frame is standard, along with LED amber and green lap-belt beacons. The dumper also comes with powerful LED working lights, providing maximum visibility in low light conditions. Productivity and performance are identical to the conventional diesel model, both in travel speeds and in tipping cycle times. The machine offers a maximum payload of 1,000kg and a maximum load over height of 2,392mm.