Patch Planers
Fast removal of damaged concrete and asphalt caused by frost, cracks and potholes.
Patch Planer
For rapid trench reinstatement and general ground compaction.
Suitable for direct or quick hitch mount.
Machine mounting ensures that the operator is fully protected from the effects of vibration.
In built protective valve safeguards the unit from accidental reverse flow damage.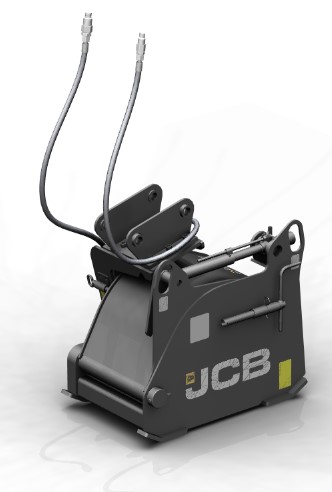 Cold Planer
All models feature electro-hydraulic adjustment of side shift, tilt, and depth functions operated by JCB multi-function controls.
Protective shields for hydraulics and electrics reduce risk of damage.
Hinged drum cover for easy servicing of picks.
Depth and tilt position indicators are within easy view.
Independent self-levelling depth adjustment plates allow for precise lapping cuts and taper cuts.
Wheels are removable allowing planing next to kerbs.
Hardened solid steel wheels with recessed greasers provide smooth travel with less rolling resistance.
Angled spoil guard wheel design prevents wheels from riding over millings; providing more force to the planning action and maintaining control over depth of cut.