Agriculture Attachments
Bale Spear
Q/Hitch configuration maximises changeover time, gives improved productivity and improves operator safety.
Triple spike design ensures stability of the bale to maximise safety.
Up to 2 tonnes maximum capability enables complete usability across the Skid Steer range.
The heavy duty rigid frame fitted with replaceable tines further extend service life.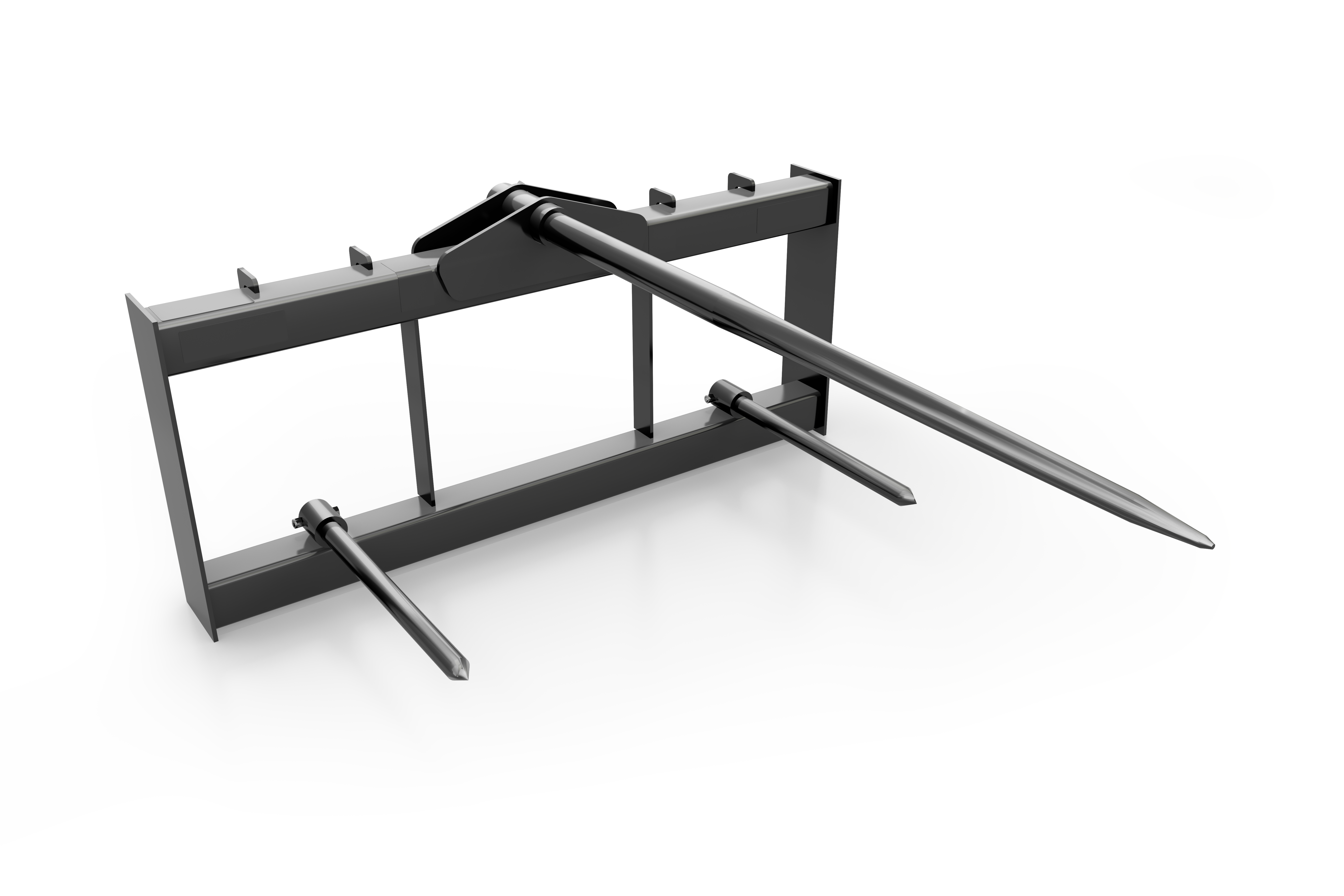 Brush Grapple
Dual independent grapples hold irregular shaped materials in place.
Standard load check valves provide positive clamp force.
All cylinders are guarded for protection from damage.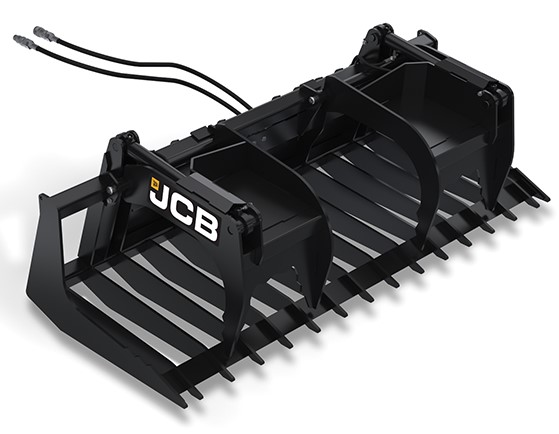 Bucket Brush
Manufactured from high strength Domex steel with a galvanised body extending product life.
Weld on brackets included within the installation kit supplied with the bucket brush.
Quick release design of the brackets provides fast and simple installation.
Free standing for storage and installation and suitable for the JCB range of grain shovels from 2.13m – 2.44m.
Supplied with hoses and couplings as standard*.
Used in reverse, offers a cleaner sweep and allows the shovel to skim any raised ground or iron works.
Forward offers improved visibility for tight or awkward areas and the ability to shake off any debris.
The shovel is quickly emptied by tilting the bucket.
Quick release bristle cartridge design aids brush segment replacement.
Poly brush segments reduce risks to livestock.
Full fitting and operator instructions supplied with the product.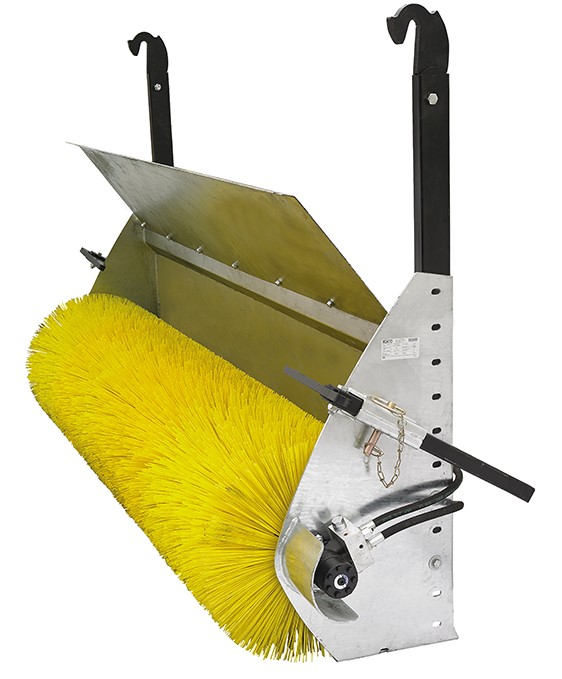 Clap Hands
Options available for all TH, Compact TH and TM machines.
Q-fit, Pin & Cone and Euro Hitch only.
Optional brackets for universal use.
Will pick up either round or square bales.
Height 430mm, Width 1,390mm, Depth 1,600mm, Weight 235kg.
Wide opening/closing grab for bales with a diameter of 0.90 – 1.80m.
Perfect clamping of bales up to 1,200kg using a high-powered ram and a check valve fitted as standard.
2 mobile floating arms with the option to lock one side off for ease of stacking.
Fully enclosed frame for reliability and a smooth structure which preserves the plastic wrap.
Pivot points fitted with wear brushes for increased durability.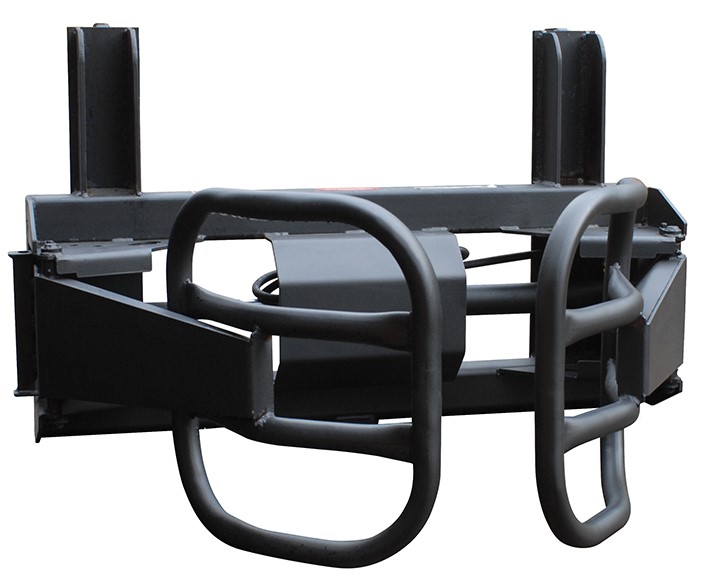 Folding Grass Forks
Hardox side and base tines.
Flow control valve for controlled opening and closing.
Cushioned rams for improved life span.

GP Shovel
High quality steel design.
Drilled toeplates to allow bolt on toeplates or teeth to be fitted.
Designed for maximum durability and productivity.
Lightweight.
A range of sizes to suit all applications.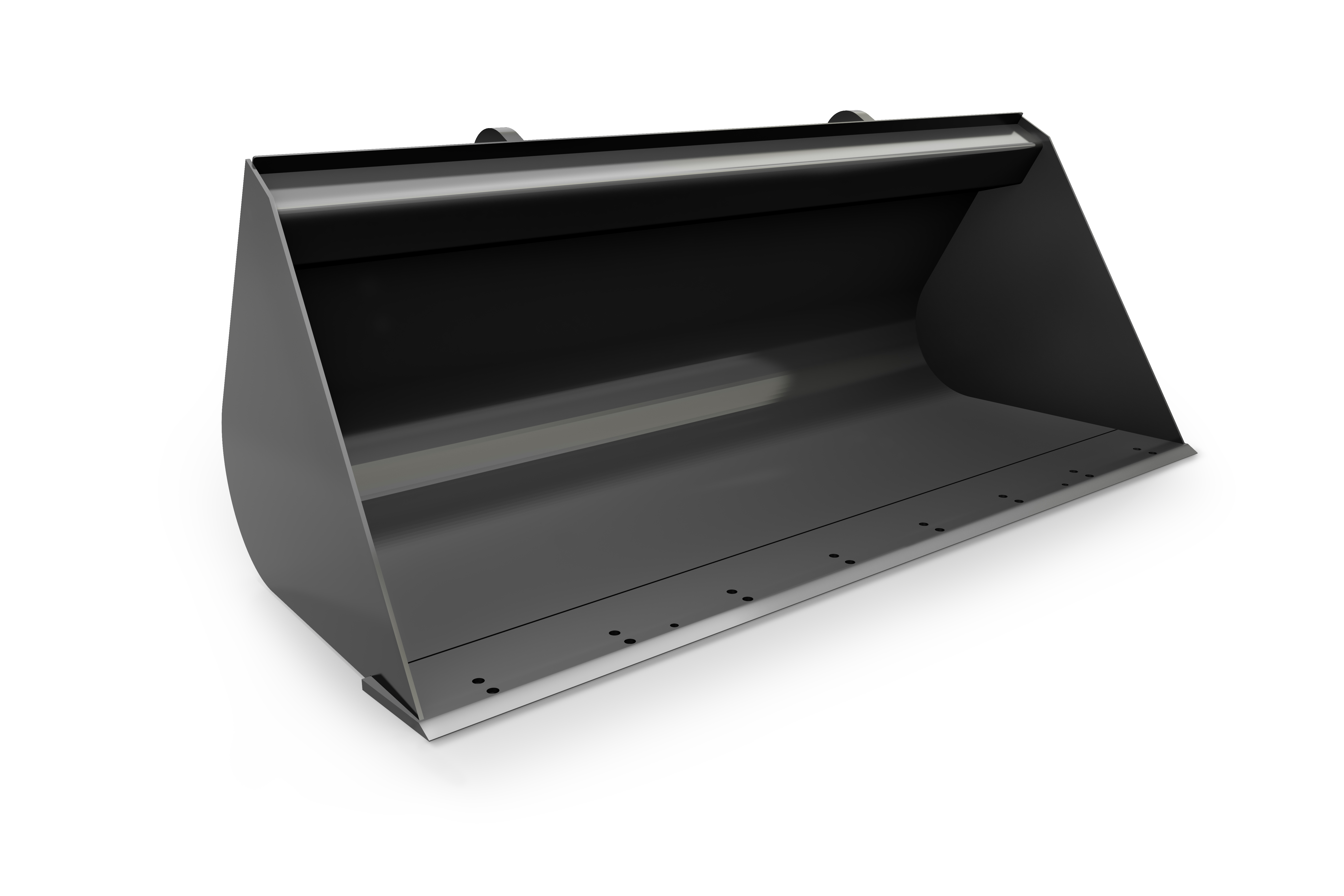 Grain Pusher
Used to make optimum use of grain store capacity.
2,286mm (90in) blade and uses a tubular frame for strength and minimum weight.
Especially useful for operating over above-floor drying ducts.
No flat edges allows free fall of grain.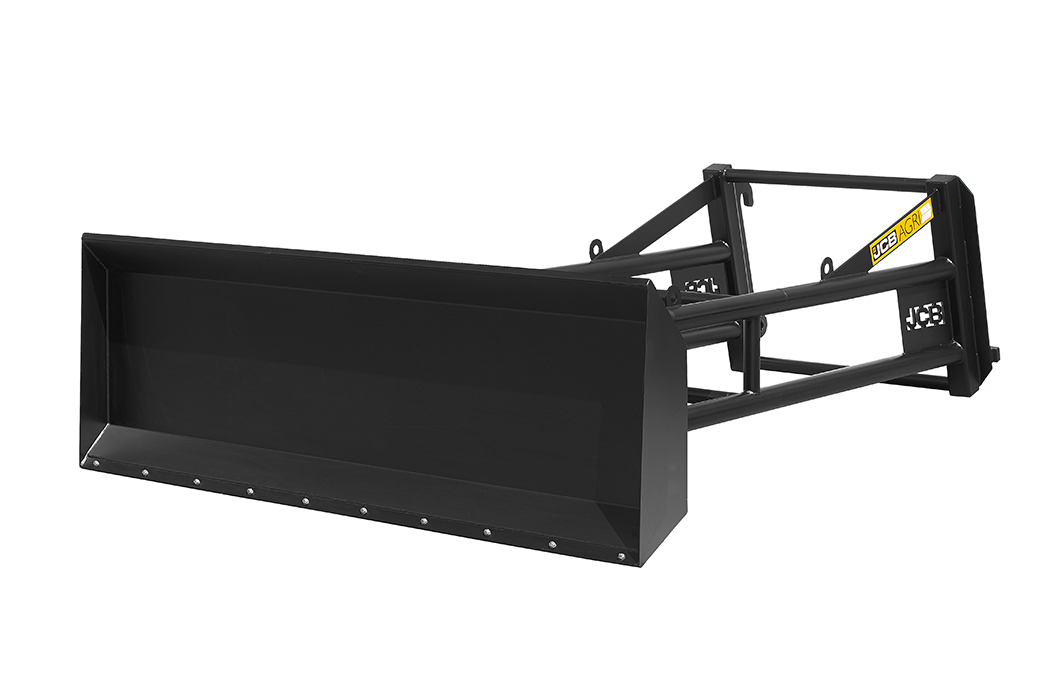 Grain / Potato Shovel
Manufactured using Domex 700MC high tensile, lower weight steel which is 17% stronger than Domex 500 previously used in our grain shovels, and 50% stronger than mild steel currently used by our competitors.
Pressed and tapered side plates for greater material penetration and improved rigidity and tear out.
Wear strips on the underside prolonging the life of the shovel.
Improved paint finish using 'coastal paint' which has benefited from 1,000 hours salt test for a longer lasting finish, which includes anti corrosive pigments for extra protection against corrosion.
Improved geometry enabling greater tear out force with increased material retention.
Rounded edge to prevent damage to crops.
Bolt on blades options offering extended life are available.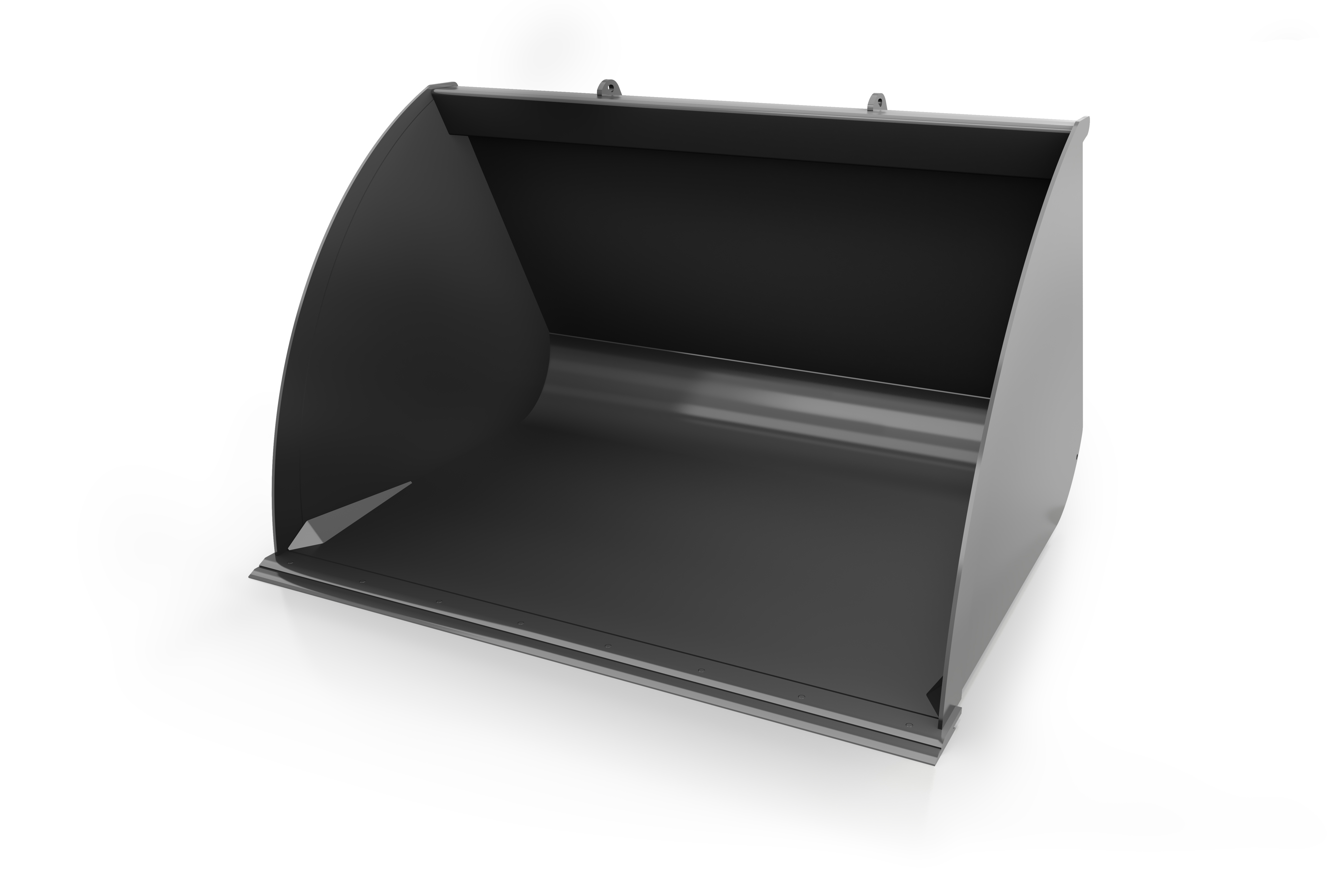 High Capacity Grass Fork
Designed specifically for handling large volumes of grass for silage work.
Feature a rear spill guard and forged tines.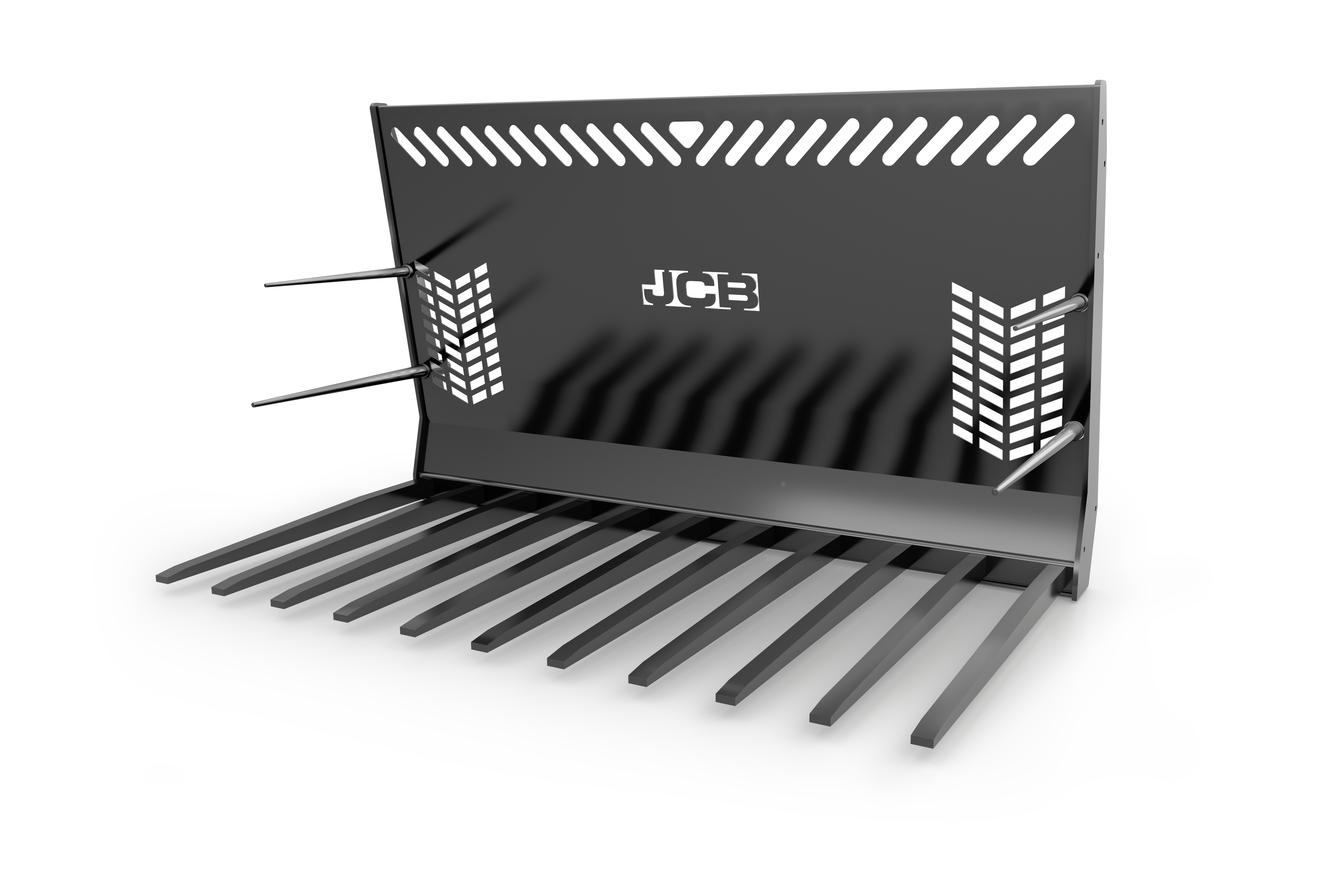 Muck Fork and Grab
A versatile attachment for moving manure, muck and silage.
A proven design, working hard day in day out, year on year, highly valued by owners and operators.
Heavy duty construction and powerful rams ensure that even the most compacted manure can be efficiently shifted.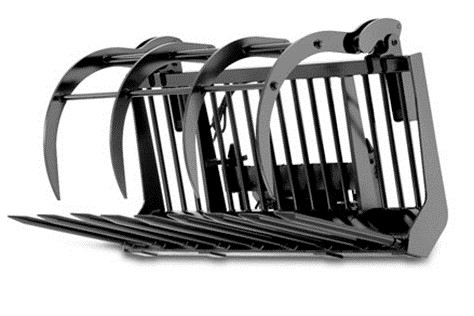 Multi Shovel
Manufactured from Domex 500, high strength steel, this new range of products offer an increased shovel capacity resulting in higher productivity than competitive models.
Wear plates are integral to the design of the shovel, not an afterthought, which means that strength is built in where needed, giving a more efficient design, resulting in lower weight, higher strength and increased capacity.
Full length wear plates on the base of multi shovel and corner supports protect your investment, extending product life.
Greasable, electroplated pivot pins resist damage from corrosive materials.
Hoses are clamped neatly out of the way of debris to reduce the chance of damage and keep your attachment working.
Top grab geometry and hydraulic ram design gives an increase of 50% in clamping power over previous models, whilst maintaining smooth and controllable action.
Top grab tines are an integral part of the grab assembly, increasing strength of the grab, lowering weight. They also feature tooth strengthening plates extending working life.
Integrated spill guard, fully welded to maintain strength, has been designed to give excellent visibility to the operator.
The grab opens to a huge 1.67m, enabling the easy handing of silage, manure, round and square bales, timber and brash.
Both in the open and shut positions, the top grab is behind the working line of the toe plate, so you can efficiently and easily clean up to walls without damage or loss of material.
Easily detachable side plates are fitted as standard, allowing you to make the greatest use of your attachment.
High grade (Boron HB500) reversible, bolt on toe plate, held securely in place with flush fitting bolts to remove the risk of damage to crops.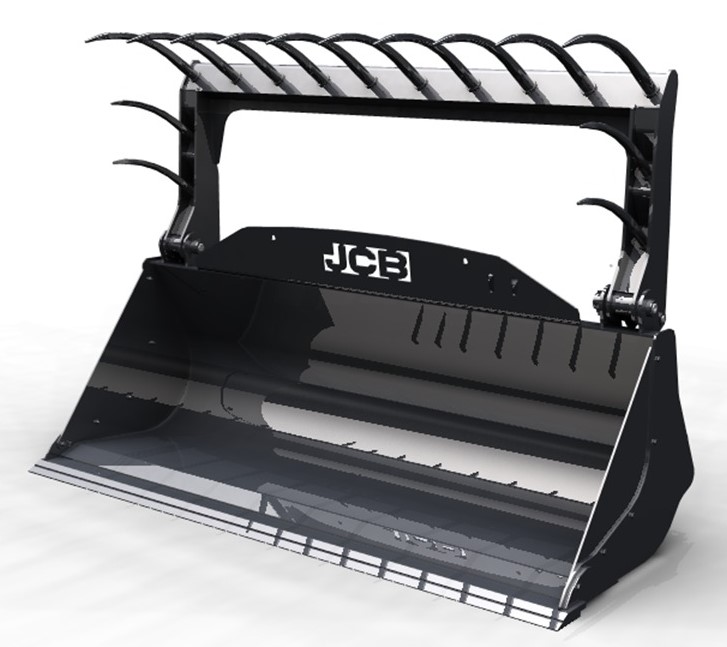 Power Grab
Ready to go with tail hoses and quick release couplings.
Wide range of tine options using forged and Hardox variations to suit all applications featuring improved bosses on the forged tines on the top grab to maximise strength.
Larger opening top grab with a greater clamping force to handle bigger and bulkier loads. With improved geometry enabling it to work up to a wall and robot welded folded steel to add superior strength and rigidity throughout.
Hoses are clamped neatly out of the way of debris to reduce the chance of damage.
Larger electro plated pivot pins, which can be greased and strategically placed wear strips to prolong life, help dissipate stress and reduce the cost of ownership.
Improved spill guard design to protect the hitch on the machine.
Greater visibility of the end tines from the cab to ensure precise material handling and maximum ram protection.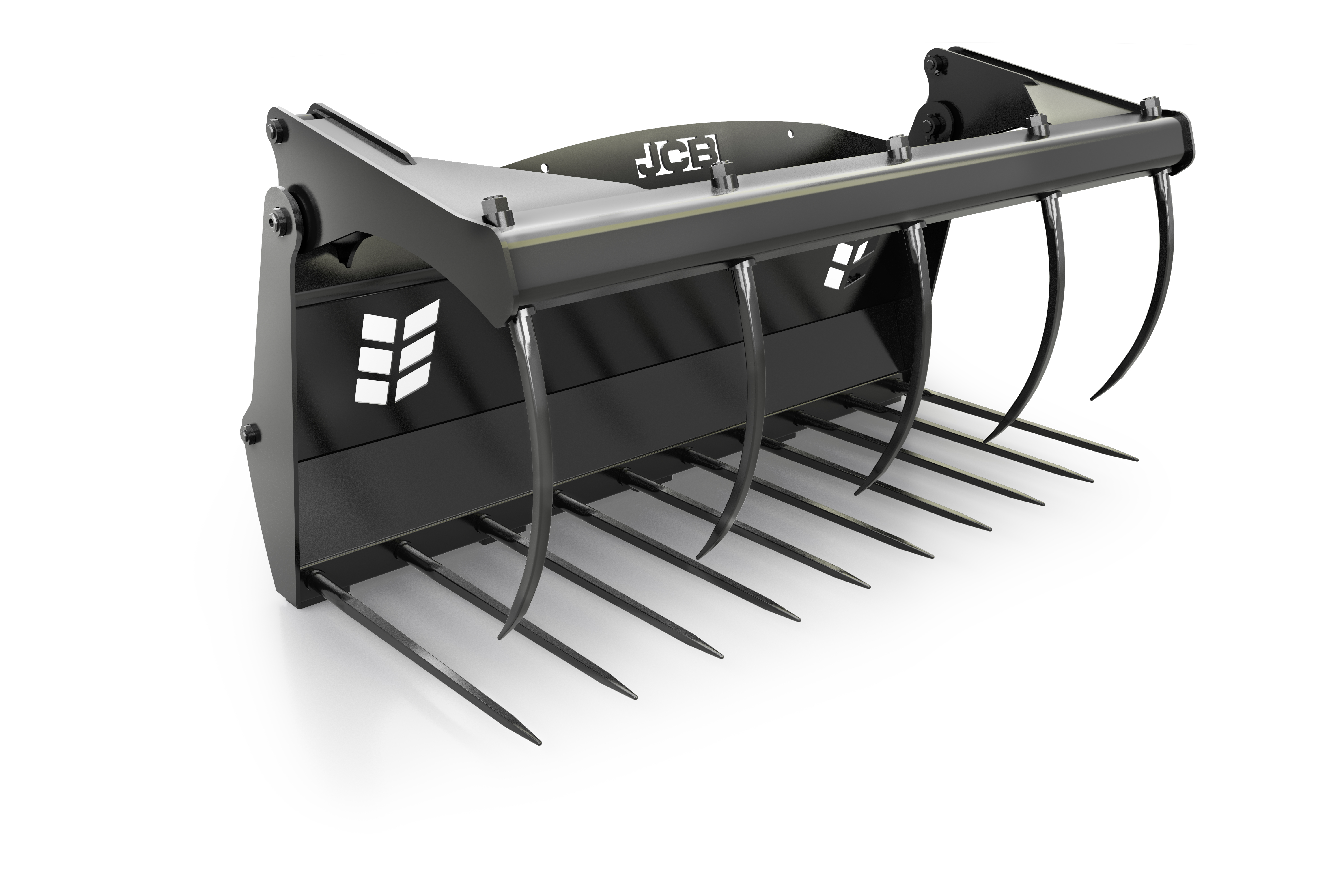 Shear Grabs
Cuts grass and maize silage from the clamp.
Enclosed front and sides.
Forged tines.
Smooth clamp face cut.
Heavy duty design.
Suitable for loaders and telehandlers.
Individual serrated blades.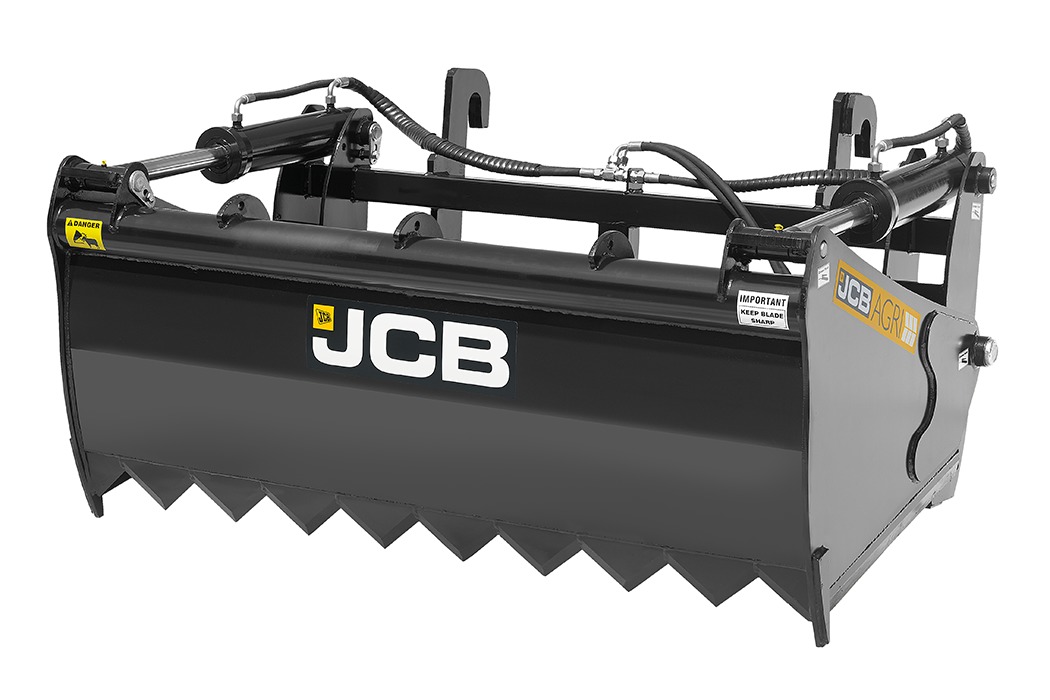 Silage Defacer
Inverted augur design loosens and removes silage from compacted bunkers.
Cutting action maintains original silage length and cut.
Open frame increase visibility.
Maintains a smooth compacted bunker face to reduce spoilage and improve palatability for livestock.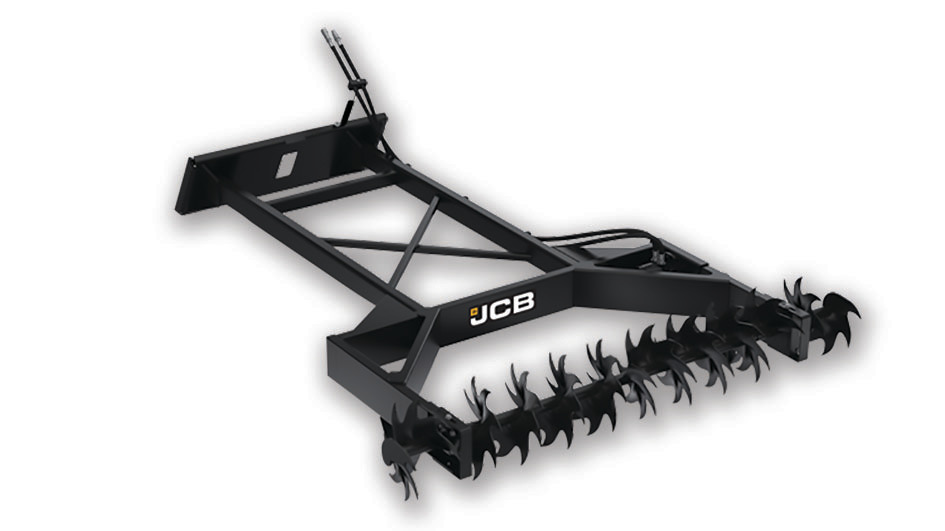 Silage Shear
Cuts grass and maize silage from the clamp ensuring high feed quality.
KV tines provide extra strength.
Heavy duty design for improved durability.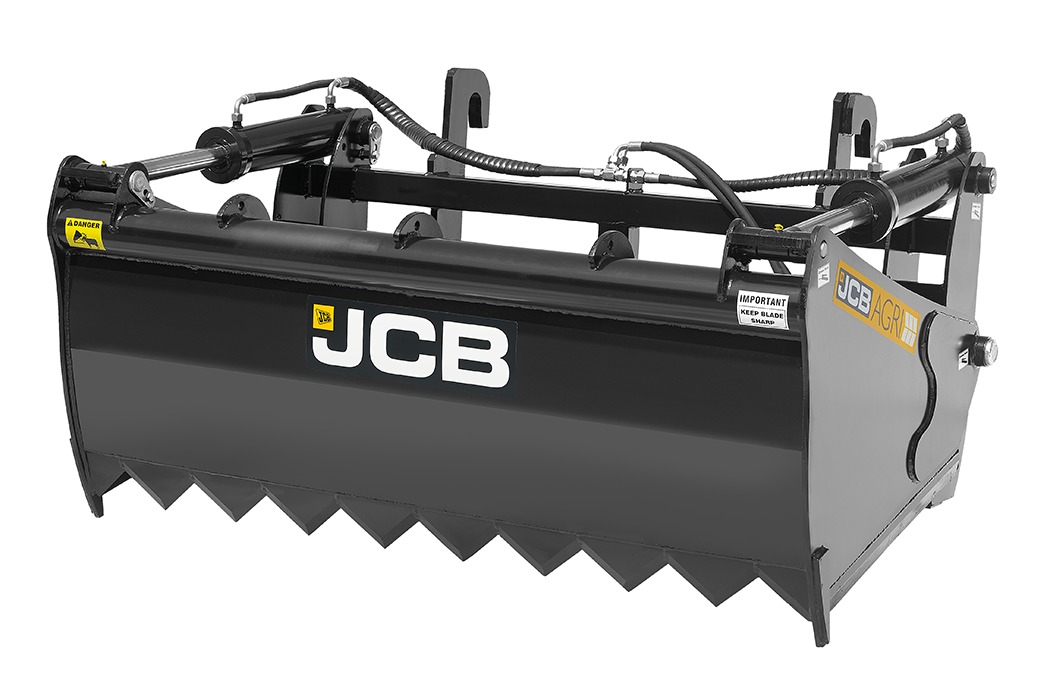 Single Bale Spike
For efficient handling of round bales up to 1,800mm diameter.
The lower tine prevents rotation of the bale.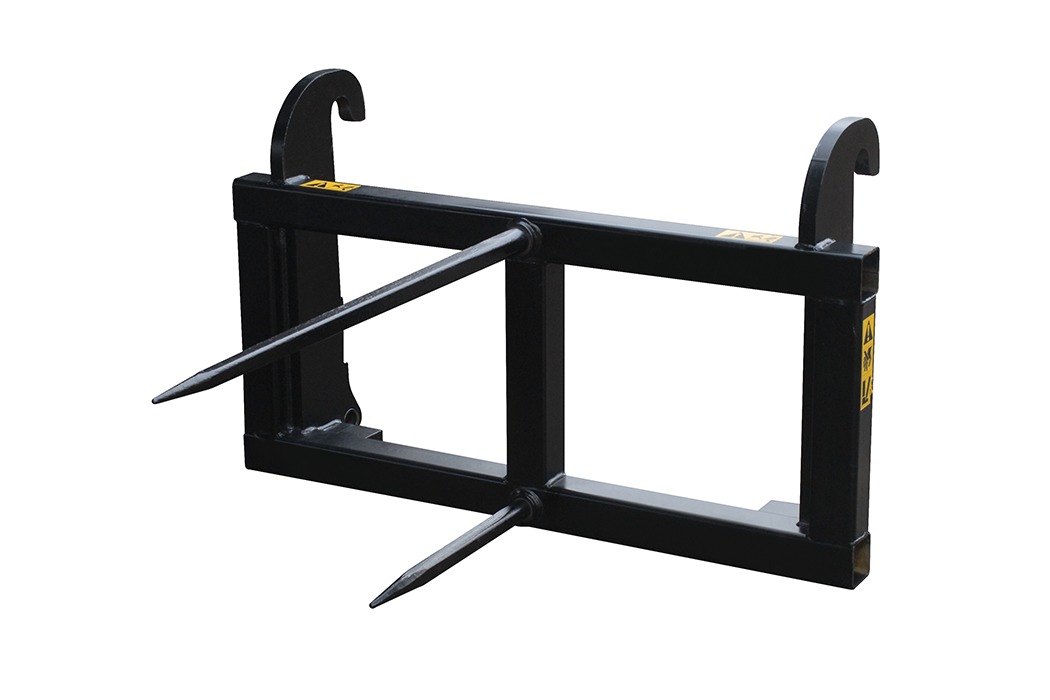 Twin Bale Spike
Offers safe and effective handling of two round bales up to 1,800mm diameter, or single rectangular bales up to 1,200mm x 1,200mm x 2,500mm.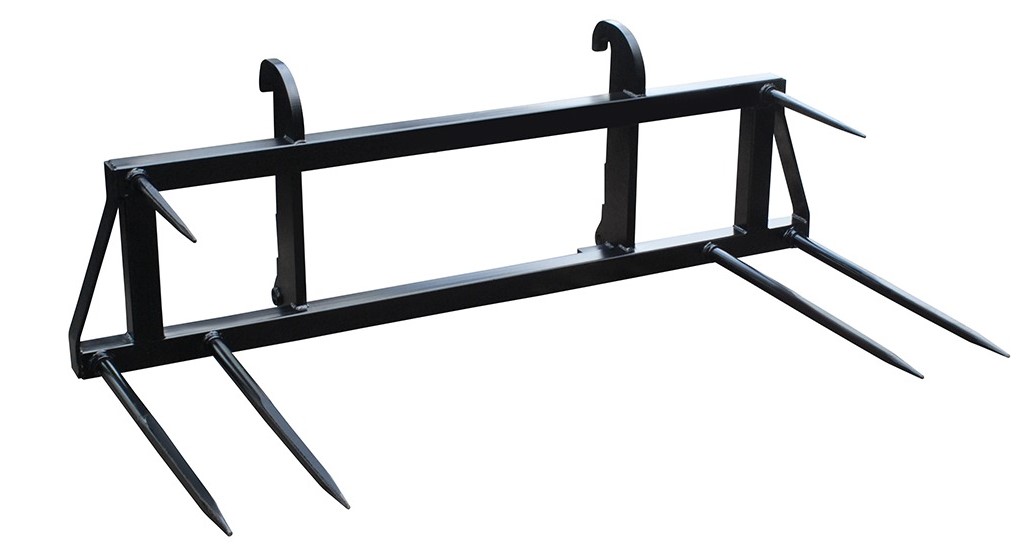 Twin or Single Bale Spike
The JCB Twin or Single Bale Spike has removable tines so that it can be used as single or twin bale spike.
Sold as a universal hanger with optional bolt on brackets.
Bolt on tines for safe transportation and replacement if worn or damaged.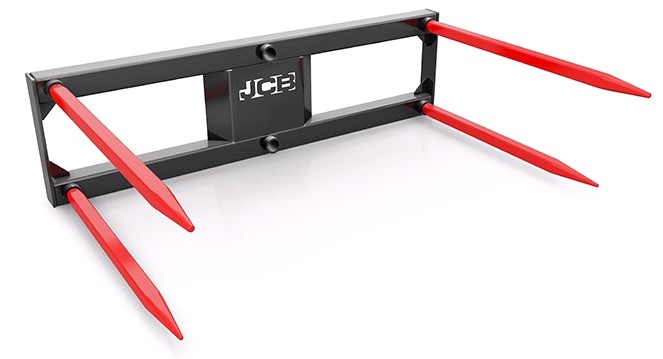 High Back Bale Spike
The JCB High Back Bale Spike has been designed to carry 3 Quadrant bales or 2 Helston bales.
Sold as universal hanger with optional bolt on brackets.
Bolt on tines for safe transportation and replacement if worn or damaged.